Water Emulsion Combustion System
・2012年3月27日
How to reduce fuel consumption...
How to manage ecological firing...
Sunflame's solution to these issues is the Emulsion Combustion System.
The Emulsion system resulted reductions of 7.4% of oil consumption, 40% of NOx, and 50% of CO. In addition, by the original system developed by Sunflame, no surfactants are needed to emulsify the fuel and water, and every control operation is automated to realize this system for practical application.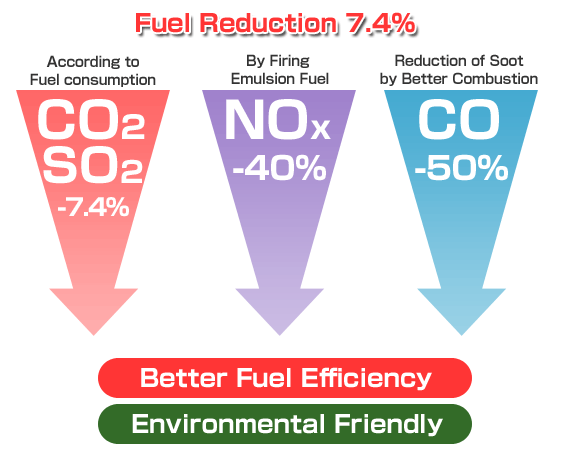 What is the Emulsion Combustion System?
The emulsion combustion system is a system that mixes the HFO with water, and utilizes the explosion of the water evaporating when the mixed fuel is exposed to the high temperature in the furnace for better combustion.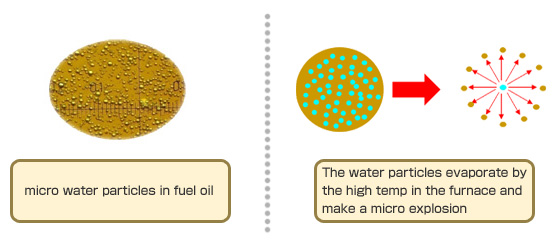 Why is this possible for Sunflame?
・The Sunflame Rotary cup burner
By mixing fuel oil and water together, this emulsion fuel cannot be heated over 100℃.
This means the emulsion fuel oil still has high viscosity than other fuels.
To burn this emulsion fuel, the rotary cup burner of Sunflame which can cope with wide ranges of viscosity is the perfect partner.
・The Sunflame Control system
By the micro explosion of the water particles in the emulsion fuel, the atomization and the eventual combustion will be much better.
Taking advantage of this phenomenon, Sunflame controls the air volume reducing the excess air to improve the efficiency of the boiler.
By the emulsion fuel, and by this control of air volume, Sunflame realize 7.4% reduction of the fuel consumption.
If your ship is adopting the Sunflame Rotary Cup Burner
The emulsion combustion system can be equipped additionally by a compact unit with the latest technology, with almost no change of layouts around the boiler and piping. (Except the fresh water supply line needs to be additionally equipped)
If you are interested in the Emulsion combustion system
/ If you want to retrofit the whole burner with the Emulsion combustion system
Contact Sunflame for further information.