The Rotary Cup Burner
・2012年3月27日
The Core Technology of Every Sunflame Product
Structure of Rotary Cup Burner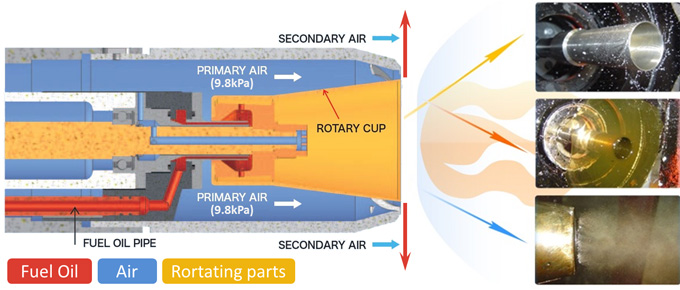 The rotary cup burner forms a film of fuel oil by the centrifugal power of the cup rotation. By giving high air pressure to this film spread fuel, the rotary cup burner creates very fine oil mist which is necessary for good combustion.
The Advantages of the Rotary Cup Burner
 
Atomization
Oil Pressure
Fuel Viscosity
Rotary Cup Burner
Atomization by
the centrifugal
power with high air pressure
Low pressure
3-5kg/cm2G
Wide range of
viscosity
Pressure Jet Burner
Atomization by
oil pressure
High Pressure
20kg/cm2
Limited range of viscosity
The most dominant characteristic of the rotary cup burner is the way of its atomization.
Unlike the pressure jet burner which needs a small nozzle for atomizing, the rotary cup burner uses a cup with wider holes, meaning the structure of the rotary cup burner secures the burner from choking. By this characteristic, the rotary cup burner is capable of firing high viscosity oil like the HFO.
Moreover, the rotary cup burner utilizes the centrifugal power for atomizing, which means that high pressure is needless for atomization. The low oil pressure of the rotary cup burner is safer to use when there is any leakage from the piping.